The following testimonials point out unique situations where TechsNOW was able to exceed the expectations of our customers. Some of these occurred during normal business operations, other detail how TechsNOW was able to support customers in extreme situations where TechsNOW was able to go "over and above" our daily support model.
Commitment During Crisis
How TechsNOW helped its client weather the storm of the century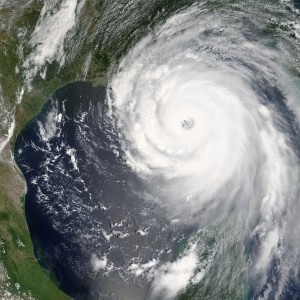 At the time Hurricane Katrina made landfall on the Gulf Coast in 2005, TechsNOW had been regularly performing IT work for a major pool supply and equipment distributor with its headquarters just outside New Orleans.  Like thousands of other businesses and residents in the area, the devastating hurricane forced the evacuation of the company's headquarters.
Although the company's disaster planning allowed them to continue servicing customers from a Dallas-based disaster recovery center in the months following Katrina, the evacuation left the company unable to receive or address normal, day-to-day IT requests from its many branch locations.  So when branches needed phone repairs, data drops and PC troubleshooting and couldn't reach their headquarters to resolve these issues, they began calling TechsNOW directly in hopes of relief.
For the next two months, TechsNOW serviced the IT needs of more than 400 nationwide sites on good faith until communications were restored with its headquarters.  Additionally, TechsNOW aided in the local recovery effort in the affected area, sending techs to recover hard drives from the servers of the company's 11 destroyed or damaged branches and setting up desktop computers and networking equipment at temporary branches to accommodate the employees of the destroyed branches.  For its customer service commitment during the crisis, TechsNOW was awarded all of the company's structured cabling needs and continues to service those needs today.
Flexibility Allows TechsNOW to Avert Disaster
How on-the-fly decision-making kept a leaky conduit from ruining a client's project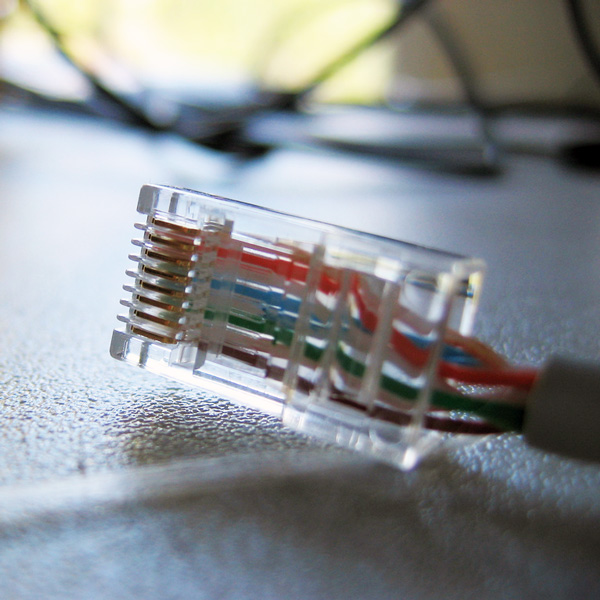 In 2012, a multinational corporation specializing in electricity distribution and automation management requested TechsNOW's help in installing structured cabling and an advanced Avaya phone system for a large corporate office being constructed in Houston, Texas.
After consulting with the client on their technological requirements and surveying the site, TechsNOW set to work laying a fiber backbone between the office's main frame and two intermediate distribution frames. From there, TechsNOW initially ran 82,000 feet of Cat6 cable in 596 individual runs, an additional 10,000 feet of Cat6 demarcated extensions over 700 feet, multiple custom, special-ordered transmit/receive coax cables and DS3 high-bandwidth circuits.
During the project, an underground conduit in the center of the complex, having been improperly sealed by the previous contractor that installed it, began filling up with groundwater. This presented a significant challenge to TechsNOW as it was a primary throughway for cabling connecting one side of the building to the other. TechsNOW moved quickly to formulate a number of possible solutions, present them to the client's project managers, reach an agreement on the best approach and moved swiftly to remedy the issue.
With a clever rerouting through modular furniture at a minimal additional cost, the potential disaster was averted. Despite the setback, TechsNOW's flexibility allowed it to exceed the project's requirements for connection speed.
Planning Leads to Success in IP Camera Rollout
How meticulous planning lead to the success of a complex technology rollout
In 2013, one of TechsNOW's longtime clients, a publicly traded consumer lending and credit insurance firm, wanted to install 2000 IP cameras in more than 850 branches across the country and requested TechsNOW's expertise to plan and execute the project.
Solid planning was imperative to the project's success, so TechsNOW worked closely with the firm to develop a strategy and installation procedure that addressed the unique challenges of such a substantial technology rollout.
With the sheer number of branches, TechsNOW came across a significant deviation in shape and size of different buildings, many with hard lid or other non-standard ceilings as well as other structural obstacles requiring creative solutions to work around while keeping on budget.  Additionally, several locations were integrated into historical buildings or landmarks with unique internal systems that necessitated special cooperation with local contractors and government agencies.
In order to maintain the friendly working environment at all the firm's branches, TechsNOW took care to ensure that no cameras pointed directly at employees' workstations or computer monitors while still fulfilling safety and security requirements.
After successfully piloting cameras in three of the firm's branches, TechsNOW proceeded with the nationwide rollout.  TechsNOW ran structured cabling from data equipment rooms to multiple camera locations and installed Panasonic IP cameras with adjustable mounts.  TechsNOW project management and installation team proved to be flexible dealing with daily changes and unexpected obstructions without delaying the installation schedule.
Professional Execution in Nationwide IP Phone Rollout
How TechsNOW maintained consistency over a long project period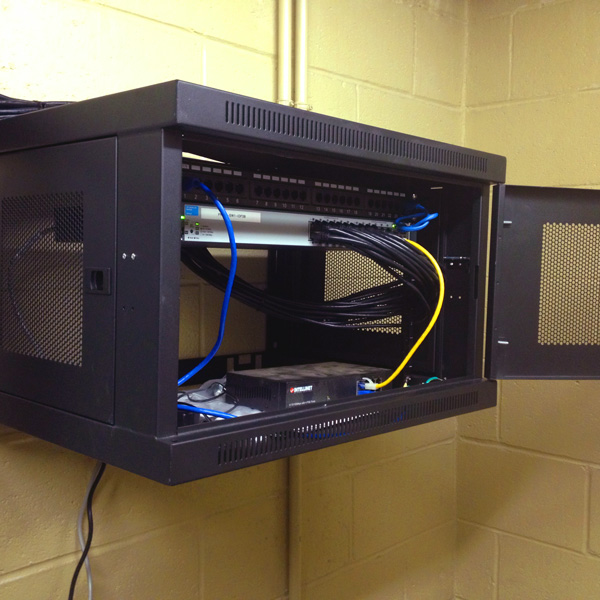 Over the past 10 years, TechsNOW has updated over 400 inventory warehouses for a leading swimming pool supply and equipment wholesale distributor. Emerging from a companywide need to upgrade outdated analog telephony to new, emerging IP phone systems, TechsNOW planned and executed the installation of the latest industry-standard structured cabling and components.
Every year during the off-season between fall and spring, TechsNOW technicians will refurbish a number of warehouses to match the specifications of a standardized design co-created by TechsNOW personnel and the client's which includes all-plenum cabling, custom color-coded patch panels and 2-foot swing relay racks.
TechsNOW maintained normal operations of the client's existing telecom equipment during the transition to the new IP phone system and assisted with the implementation of the new system into the warehouse environment. Additionally, TechsNOW installed UPAM modules to interface between paging systems and IP phone system.
Speak with someone immediately by calling (888) 320-2582