General, Cabling & Wireless Site Surveys
The planning stage is critical to any IT or telecommunications project and begins with an accurate, detailed site survey of your existing offices and IT infrastructure.
This is important because every office branch and warehouse is unique, even in the most carefully planned national enterprises. Square footage, MDF/IDF locations, cabling and hardware can all vary from location to location and may change over time.
TechsNOW has performed thousands of site surveys leading to successful implementations of wireless local networks in small, medium and large environments. Combining industry-leading software and analysis techniques with expert knowledge, TechsNOW engineers map out the ins and outs of your existing infrastructure.
Our team can then use this crucial information to design the expected operating environment, compatibility requirements and network structure.
Whether you have an upcoming rollout of equipment or are engaged in an internal IT audit, let TechsNOW help you with this important function.
Powered by TechsNOW's Customer Service Portal
Our CSP is the centerpiece of how we operate and execute each project. Developed through years of hands-on project management experience, this proprietary centralized web portal allows you to view project notes and all the information collected during the site survey in real time.
At the end of the survey, TechsNOW will deliver a detailed report of our findings along with recommendations and plans for implementing a scalable network solution that is perfectly matched to your cost and technical specifications.
Analysis and Recommendations
We believe your comprehension of the data gathered is as important as the survey. TechsNOW's dedicated project managers will help you understand and decipher survey information and provide you with intelligent recommendations.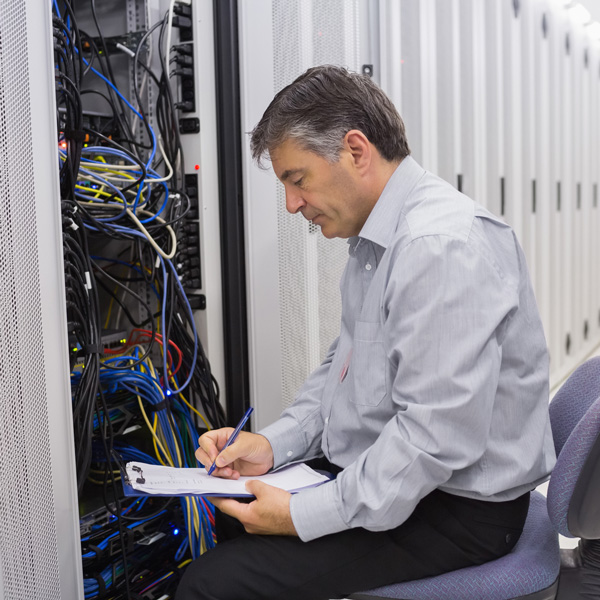 Centralized Project Management
After our team works with you to define the scope, our motivated project managers seamlessly coordinate with our network of 3,500 experienced field service technicians to execute the site survey. TechsNOW offers a number of different types of site surveys depending on your needs.
Our expert site surveyors will provide a thorough inspection of each location with accurate recordings of extracted data. After completing the survey, TechsNOW clients can access detailed documentation including digital site photos from our CSP web portal.
Wireless Site Surveys
If your business operation relies on consistent, dependable wireless communication, TechsNOW can help you avoid any interruptions. A detailed wireless survey of your site(s) by our experienced field service technicians includes:
Documenting site dimensions
Inspecting potential RF obstacles, preliminary access point identification (power and wired network access), cell coverage and signal overlap
Measuring and logging signal readings and data rates
Surveying the access point location
Types of Information Gathered
TechsNOW will work with you to define your project objectives and then execute. The functions we can perform range from:
IT hardware, software, firmware inventories, Servers, storage, switching, routing equipment
Telecommunications equipment: inventories, manufacturer, model, serial number, software revisions, location of equipment, port counts, capacity, locations and conditions of phones, etc.
Digital photos of equipment, racking, cabling, patch panels, electrical.
CAD drawings, layouts of equipment rooms
Environmental or electronic readings
Low voltage wiring or cable certification information
Physical plant/cabling documentation
Circuit inventory

Find out how site surveys lead to the success of an IP camera rollout
You can speak to someone immediately by calling us at (888) 320-2582